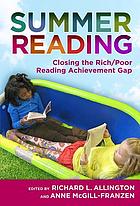 Like many teachers, one of the things I love most about summer is the opportunity to catch up on my reading. Actually, I read all the time, so summer brings the opportunity to read even more and for longer periods of time (on the beach with a cold drink!). Unfortunately, for many students, summer brings a significant achievement loss due to lack of summer reading. In a new book titled, Summer Reading: Closing the Rich/Poor Reading Achievement Gap, authors Richard Allington and Anne McGill-Franzen (2013) state that summer reading loss accounts for roughly 80% of the rich/poor reading achievement gap.
Poor children do not read because they have much more restricted access to books at home and in their communities (Neuman & Celano, 2012). However, in a recent study we demonstrated that simply providing children from low income families with self-selected books for summer reading eliminated summer reading loss and spurred reading gains comparable to those experienced by middle class children (Allington, McGill-Franzen, Camilli, et al.,2010) (p. 10).
In the following video, Richard Allington talks about excellent teachers and summer reading loss.
Fortunately, there are steps teachers can take to alleviate summer reading loss.
Allington, R., McGill-Franzen, A. (2013). Summer reading: Closing the rich/poor reading achievement gap. Newark: IRA.
Allington, R., McGill-Franzen, A., Camilli, G., Williams, L., Graff, J., Zeig, J., Zmach, C. & Nowak, R. (2010). Addressing summer reading setback among economically disadvantaged elementary students. Reading Psychology, 31(5), 411–427.
Neuman, S. B., & Celano, D. C. (2012). Giving our children a fighting chance: Poverty, illiteracy, and the development of information capital. New York: Teachers College Press.